"Your quest is to create one game each month for the entirety of 2013."
Last year I decided to participate in the One Game A Month challenge. I wanted to try out different game engines and programming languages, and, most important, I wanted to actually finish a game. Most of my other projects became too big and I paused or canceld them. So OGAM was the perfect opportunity for me.
One year later and I really have made 12 games in 2013: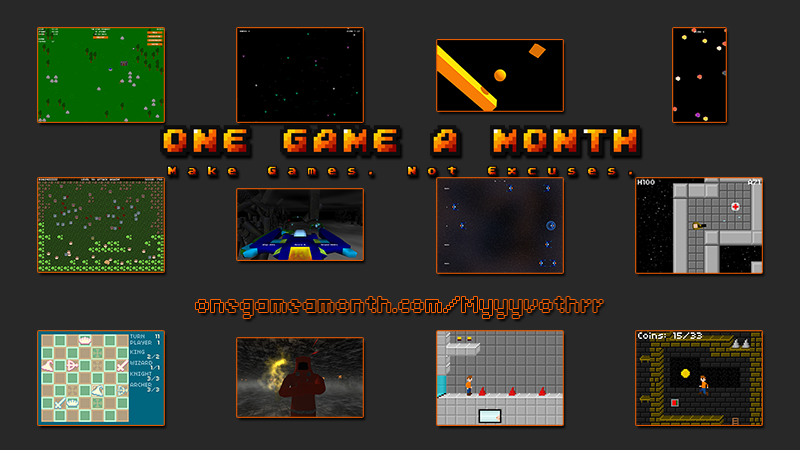 My games became smaller and simpler over the year because my time and motivation were decreasing, but it was a great experience and I learned a lot. Mostly about finishing my projects, so I only used Impact (HTML5 / JavaScript) and Unity (C#) for all the 12 games and not different game engines and kept the games small.
The two games I like the most are The Mage Dungeon and Where The Fuck Is My Brain?. The first one was mentioned on Free Indie Games and some people even made Let's Play videos. Awesome! The second game was mentioned on Oddities, and I just always wanted to make a platformer.
I am really proud that I finished One Game A Month!
Congratulations to everyone who did One Game A Month and thanks to McFunkypants for starting it!
You can play the games here or on my One Game A Month profile.
January: Where The Fuck Is My Brain?
2D Platformer. Somehow you lost pieces of your brain...
February: Where The Fuck Is My Brain? Chapter 2
2D Platformer. You got your brain back. Now it's time to find the alien boss...
March: The Mage Dungeon
3D Dungeon Action. The goblin god sent evil mages to the dungeon...
April: Kill The King
2D Two-Player Chess-like game. My Ludum Dare 26 game.
May: A Space Game
2D Action + Space Shooter. Find your ship and get to the alien planet...
June: Space Battle
2D Space Strategy. Get your ships to the other side...
July: ODD SPACE
3D Space Shooter. Fight your way through this odd world...
August: 10s Zombies
2D Arcade. You are a zombie. You need to eat every 10 seconds... My Ludum Dare 27 game.
September: Catchagon
2D Game. Catch the hexagons...
October: Orange Sphere
3D Platformer. Get the sphere to the exit...
November: Change Space Shooter
2D Space Shooter. Change the color of your ship to kill the enemies...
December: You Only Get One Worker
2D "RTS". The King sent you to rebuild the castle. You only get one worker... My Ludum Dare 28 game.